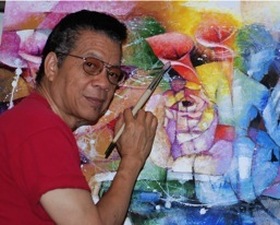 ABOUT ESSUD


Fungcap studied at the SOHO Art Center in New York in the late 70's and then moved on to Florida where he did some research at the Coral Gables Museum of Art in Florida. Later, he decided to study visual communications and Graphic Design at the Art Institute of Houston, Texas. In addition to showing his work in the United States and abroad, he maintains his strength through teaching and personalized study (Art Students League of New York). His images have been published in magazines worldwide.

In July 1998, he was invited to appear live on the Atlanta's NBC/TV " In Depth" program with Wess Sarginssen to talk about his works and his impressions. In January 1999 he was invited for a presentation at the Chicago Cultural Center during the "Meeting of the Two Worlds" event. He has also received numerous national awards including the Manhattan Arts International Magazine's, the Annli's Outstanding Achievers Award in New York, and the Chicago Museum of Science Honorable Mention for his creativity.

In February 1999, he exhibited at the Atlanta State Capitol where he met with Governor Georges Barnes and Mayor Bill Campbell. In March 2000, he was invited to appear on the FOX/TV program "Good Day Atlanta." In March 2001, Atlanta-base NBC/TV featured him as Artist of the Month on their website, as well as the Howard University student website. His works are included in many prestigious private and public collections, and are very well demanded among Art Lovers.


---